This toffee tastes like Heath Bars, a candy I haven't eaten since I stopped eating dairy. It's made with matzos, dairy-free toffee and dark chocolate, but its flavor reminds me of those candy bars I loved. These easy-to-make bars are a perfect holiday treat. And, they're low in sugar, difficult as that is to believe. This Christmas, I decorated mine with crushed candy canes and cheerful sprinkles.
I cut the sugar content of this sweet treat by substituting erythritol, which has a glycemic index of zero, for part of the sugar. I don't like the flavor of erythritol all by itself (it's much sweeter than sugar), so I always combine it with organic coconut sugar, which is marginally more nutritious than refined white sugar, an unhealthy ingredient for everyone.
My regular supermarket carries gluten-free matzos all year round. If you can't find gluten-free matzos, use gluten-free saltines instead, and omit the salt in the toffee.
I make this toffee with organic bittersweet chocolate chips. Make sure the chocolate chips you use are gluten-free and dairy-free. Many are not. Also, check the sugar content on the back of the bag, which can vary quite a bit. Bittersweet chocolate chips contain less sugar than other types of chocolate chips.
My organic supermarket carries cute sprinkles by Supernatural that I dribbled on this toffee. The sprinkles come in shapes like "Ugly Christmas Sweater." The colors are bright, but they're all natural. I used "Rainbow Starfetti" sprinkles along with crushed organic candy canes.
Happy Holidays!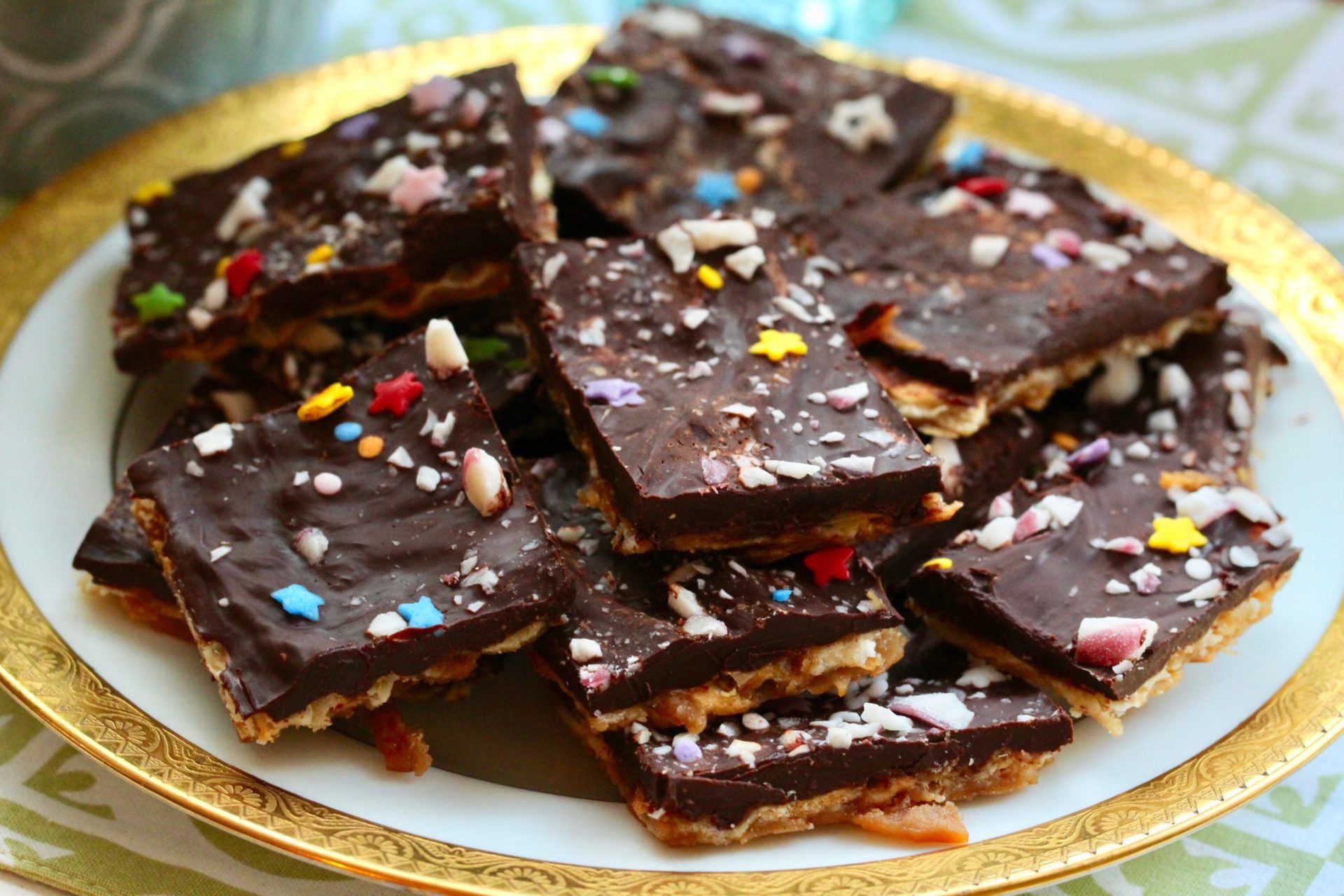 Print Recipe
Gluten-Free, Dairy-Free Matzoh Toffee
Simple to make, this gluten-free, dairy-free matzoh toffee is a sweet treat for any occasion.
Ingredients
2-3 large gluten-free matzos

1 stick dairy-free butter (8 ounces)

1/4 cup granulated erythritol or xylitol

1/4 cup coconut sugar

1/2 teaspoon salt

8 ounces bittersweet chocolate chips

2 organic candy canes, crushed into small pieces

Organic sprinkles (optional)
Instructions
1
Preheat oven to 325 degrees F.
2
Cover a 9" by 11" baking dish with parchment.
3
Cover the bottom of the dish with matzos, breaking the matzos to fit as needed.
4
In a small saucepan over medium-high heat, heat the butter, sweeteners and salt until it boils.
5
Boil for 2 minutes, stirring constantly with a wire whisk.
6
Remove from heat and pour toffee over the matzoh. Use a spatula to spread the toffee so it covers the matzoh completely.
7
Put the pan in the oven, and bake at 325 degrees F for 15 minutes, until the toffee is medium brown.
8
Take the pan out of the oven, and sprinkle the chocolate chips over the top of the matzoh.
9
Wait a few minutes for the chocolate chips to soften, and then spread the chocolate out evenly over the matzos.
10
Allow the chocolate to cool for a few minutes, then dust with crushed candy canes and organic sprinkles.
11
When the toffee has cooled completely, either break into bite-sized pieces, or cut with a sharp knife into 2" squares.
12
Store in a sealed container in the fridge for up to a week.
Line a 9″ by 11″ baking dish with parchment paper, then lay the matzos over the parchment. Break more matzos to fit as needed.
In a small saucepan over medium-high heat, stir together the dairy-free butter, sugar and salt.
Bring the mixture to a boil, and boil for 2 minutes.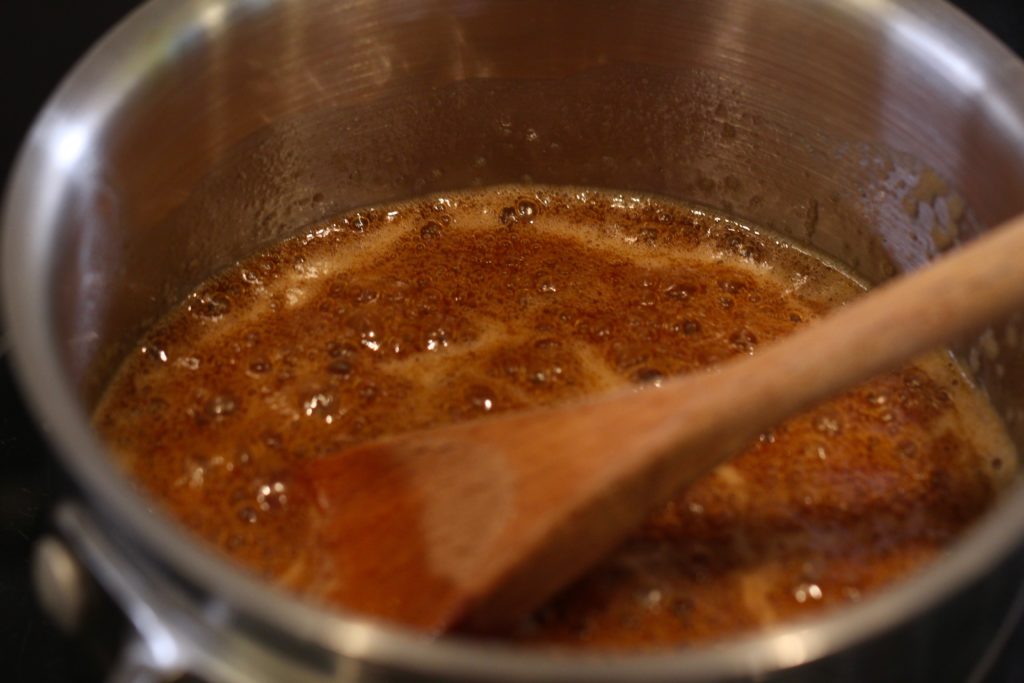 Pour the toffee over the matzos, and bake at 325 degrees F for 15 minutes.
Sprinkle the chocolate chips over the toffee-covered matzos, and wait for them to soften. Use a spatula to spread the chocolate in an even layer over the matzos.
Decorate the toffee with crushed candy canes and holiday sprinkles.