I came home from the farmer's market with an abundance of garlic and fresh rosemary. A piece of pork shoulder was defrosting in my fridge, so I blended the garlic and rosemary together into a paste and slapped it all over the meat.
The pork went into the oven for four hours, and out came utter deliciousness. My only regret was that I hadn't bought more fresh rosemary and garlic at the farmer's market. Next week, I will.
The key to the intense, amazing flavor of this dish is using very fresh ingredients. Supermarket garlic and fresh rosemary (even from my organic supermarket) aren't nearly as full of flavor as are the juicy heads of garlic and gleaming green rosemary leaves direct from a local farm.
Make the paste of garlic and rosemary for this dish in a blender or mini-processor. Use more or less garlic and rosemary depending on the size and dimensions of your piece of pork shoulder. You want the paste to cover the top and sides of the meat completely. It will turn into an amazingly delicious crust.
I buy organic pork from a large chain supermarket. It's expensive, so I only buy two-pound, boneless pieces of pork shoulder. If you can buy larger pieces of pork from a local farmer, so much the better. Increase the amounts of seasoning and the cooking time accordingly.
Print Recipe
Roast Pork Shoulder with Fresh Rosemary and Garlic
Utterly delicious, this pork shoulder slathered with a paste of garlic and rosemary is simple to prepare.
Ingredients
Boneless pork shoulder, about 2 pounds

2-4 large cloves of garlic (about 3 heaping tablespoons, chopped)

1/4 cup fresh rosemary leaves

1 teaspoon salt

1 tablespoon olive oil
Instructions
1
Preheat oven to 400 degrees F.
2
Wash and pat dry the pork shoulder. Place it in a baking dish.
3
In a blender or mini-processor, blend the garlic, rosemary, salt and olive oil into a paste.
4
Spread the paste over the top and sides of the pork.
5
Place the dish in the oven and roast at 400 degrees F for 30 minutes.
6
Reduce the heat to 300 degrees F.
7
Roast for 3.5 more hours, total.
8
Check the meat every half hour or so. After about an hour, put a tent of aluminum foil over the pork to prevent the crust from burning.
9
The roast is done when the meat pulls apart when pressed gently.
10
Remove from oven and baste with juices from the pan.
11
Allow to sit for 5 minutes to reabsorb the juices, cut into slices and serve drizzled with any remaining pan juices.
Wash a 2 pound boneless pork shoulder, pat it dry, and place it in a baking dish.
Garlic and rosemary fresh from the farmer's market are the key to this dish.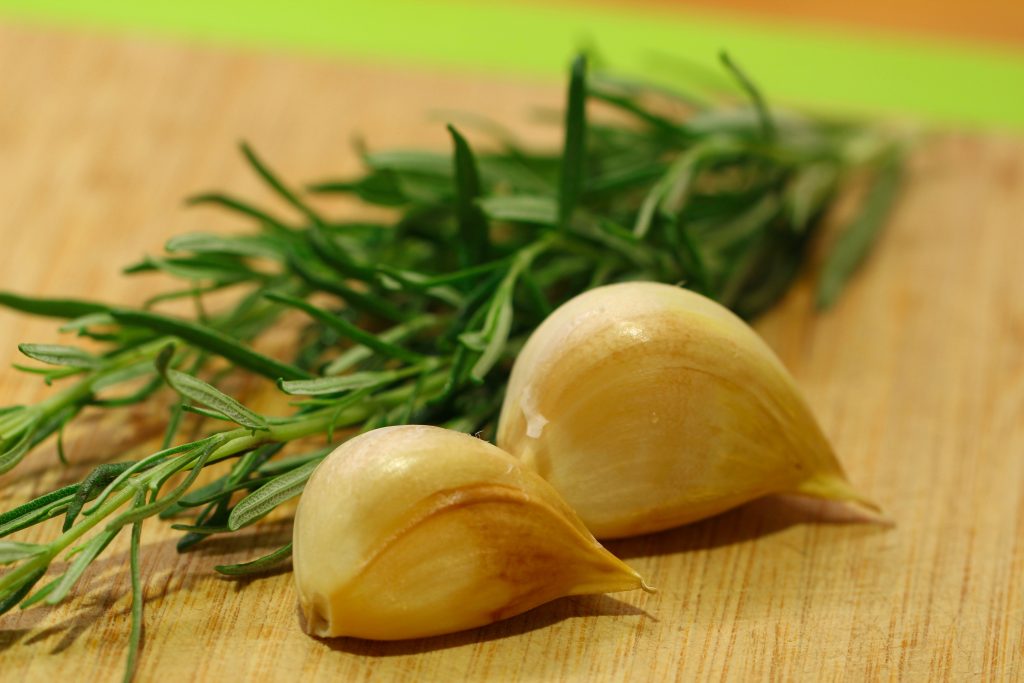 Blend the rosemary and garlic into a paste along with some salt and olive oil. I use a mini-processor, but a blender will work also.
Spread the rosemary garlic paste all over the top and sides of the meat.
Roast the pork shoulder for 4 hours. It comes out of the oven covered in a scrumptious crust. Inside, the meat is tender and juicy.